---
3507 W Chester Pike
Newtown Square, PA 19073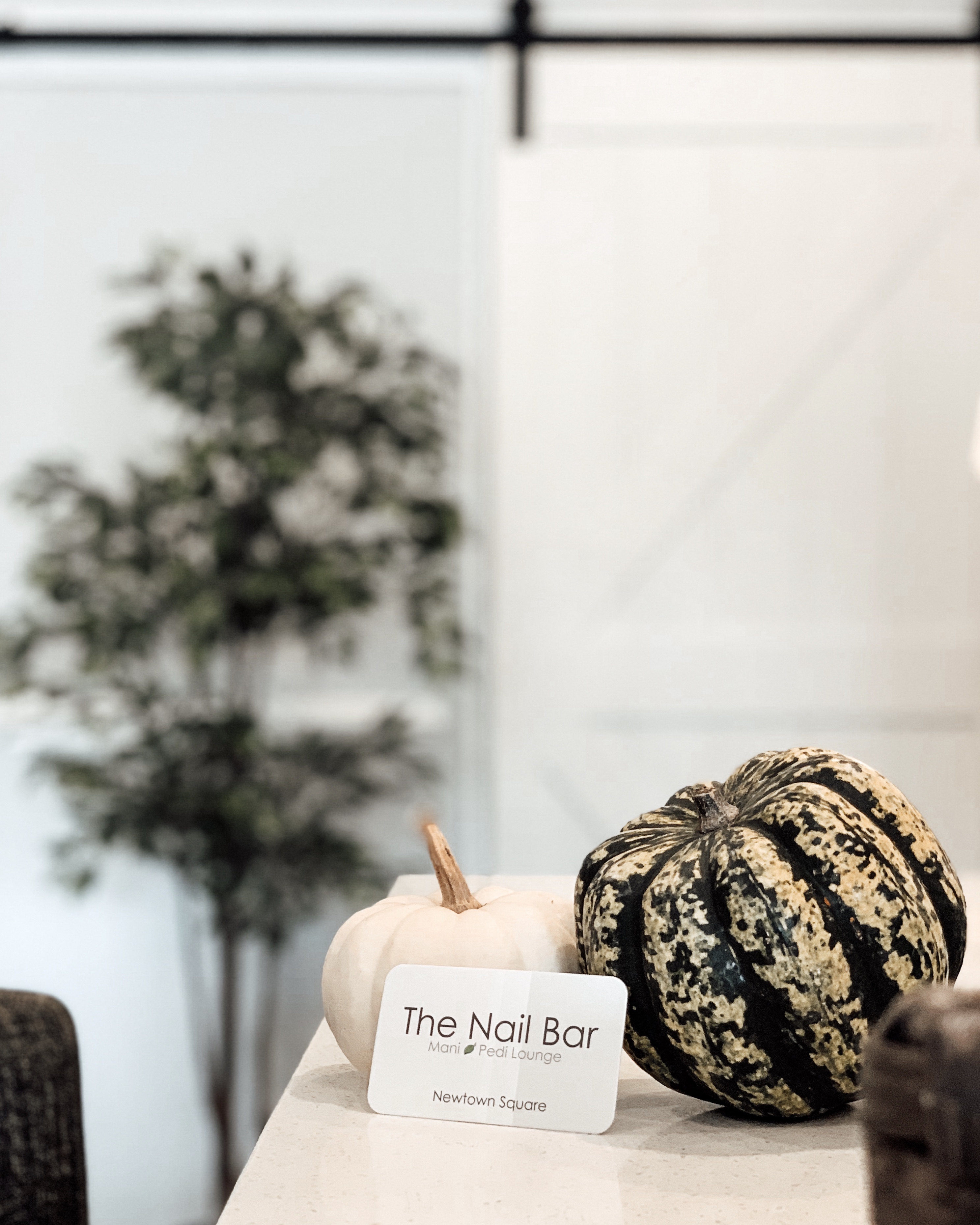 ---
---
manicures
all manicures include trim, shape, buff,
cuticle oil application and polish
polish change  $10   (5-7 mins)
trim, shape, buff, cuticle oil and polish
mini dry manicure  $14  (8-10 mins)
a waterless manicure, ideal for those who does not prefer cuticle maintenance | includes light hand massage 
nail bar manicure  $18   (18-20 mins)
this is our classic manicure | trim, shape, cuticle maintenance, buff & cuticle oil application, warm towel wrap and ends with a hand and forearm massage 
gel manicure  $35  (30-40 mins)
classic manicure that finishes with a gel polish application that lasts for approximately 10-14 days | no smudging, chipping and the best part, NO DRY TIME, leaving your nails shiny and glossy until gel removal | gel removal is included
hydrating manicure  $25  (20-25 mins)
classic manicure using a sugar scrub exfoliation to regenerate and refine dry skin, finishing with an oil application rich in vitamin E to rehydrate hands
organic manicure  $35   (25-30 mins)
classic manicure using organic ingredients | natural detoxifying sugar scrub, restorative and hydrating moisture mask, warm towel wrap and finishes with our refreshing massage cream
sweet tropical spa manicure  $35   (30-35 mins)
rejuvenating spa manicure infused with refreshing symphony of essential oils, vitamin E and antioxidants | this enhanced formula is designed to stimulate the senses as it soothes, refines and conditions the skin and nail beds | includes tropical scrub, mask and massage cream
almond spa manicure  $35  (30-35 mins)
luxurious spa manicure that will soothe tired hands, leaving them baby-soft and smelling oh-so-almond sweet | includes our almond moisture scrub, illuminating mask and hydrating almond cream
gel add on signature manicure  $17   (15-25 mins)
add gel polish to any of our signature manicures| finishes with our no dry time, glossy gel polish application
gel add on  $20  (15-25 mins)
trim, file, buff and finishes with our no dry time, glossy gel polish | does not include full manicure and gel removal
gel off & on  $25  (20-30 mins)
gel removal, trim, file, buff and finishes with our no dry time, glossy gel polish | does not include full manicure
---
pedicures
all pedicures include trim, shape, cuticle maintenance, buff, cuticle oil,
pumice and polish
polish change  $14  (8-10 mins)
trim, shape, buff & cuticle oil application and polish
express pedicure  $28  (18-20 mins)
our classic pedicure | trim, shape, cuticle maintenance, buff & cuticle application, pumice exfoliation and finishes with a lower leg and foot massage
nail bar pedicure  $33  (25-30 mins)
our signature pedicure| lemongrass aromatic soak, lavender or citrus mineral salt exfoliation on lower leg and foot, warm towel wrap and finishes with our refreshing massage cream
heel therapy pedicure  $40   (30-35 mins)
ideal for those with dry heels | warm lemongrass essential soak, callus eliminator application, lavender or citrus mineral salt exfoliation, massage, warm towel wrap, cucumber melon heel massage cream and finishes with our rejuvenating oil application
tropical hydrating pedicure  $47  (35-40 mins)
relaxing coconut spa pedicure consisting of a lemongrass essential oil soak, callus eliminator application, coconut sugar scrub, hydrating coconut mask, warm towel wrap, cucumber melon heel massage, coconut massage cream and finishes with our rejuvenating oil application
organic pedicure  $48   (35-40 mins)
this pedicure uses organic ingredients | natural detoxifying sea salt soak, callus eliminator application, luxurious sugar scrub, restorative and hydrating moisture mask and refreshing massage cream 
spa pedicure  $55  (40-50 mins)
luxurious pedicure leaving you feeling serene | includes an essential lemongrass soak, callus eliminator application, lower leg & foot exfoliation, mineral salt glow and lavender mineral salt exfoliation, minty lower leg and foot mask, warm towel wrap, cucumber melon heel foot massage and finishes with our rejuvenating oil application
gel add on signature pedicure  $20  (15-25 mins)
add gel polish to any of our signature pedicures and finish with our no dry time, glossy gel polish
gel add on  $23  (15-25 mins)
trim, file, buff and finishes with our no dry time, glossy gel polish | does not include full pedicure and gel removal
gel off & on  $28  (20-30 mins)
gel removal, trim, file, buff and finishes with our no dry time, glossy gel polish | does not include full pedicure
---
children (12 and 

under)
due to their safety, children under the age of 6 is not permitted in our salon at this time, until further notice 
---
kid's polish change hands  $6   (5 mins)
trim, shape, buff & cuticle oil application and polish
kid's manicure  $13  (8-10 mins)
trim, shape, light cuticle maintenance, buff & cuticle oil application, light hand massage and polish
kid's polish change toes  $8   (10 mins)
trim, shape, buff & cuticle oil application and polish
kid's pedicure  $20  (15-17 mins)
mint soak, trim, shape, light cuticle maintenance, buff & cuticle oil application, gentle pumice exfoliation, light massage and polish
---
gentlemen
all services include trim, shape, buff, 
cuticle oil application polish
trim & go hands $9  (5-7 mins)
trim, shape, buff & cuticle oil application and high shine buff or clear polish
basic manicure  $18  (18-20 mins)
a classic manicure | cuticle maintenance, full hand & forearm massage, warm towel wrap and high shine buff or clear polish application
spa manicure  $35  (30-35 mins)
signature manicure infused with refreshing symphony of essential oils, vitamin E and antioxidants | this enhanced formula is designed to stimulate the senses as it soothes, refines and conditions the skin and nail beds | includes tropical scrub, mask and massage cream
trim & go toes  $12   (8-10 mins)
trim, shape, buff & cuticle oil application and high shine buff or clear polish
basic pedicure  $28  (18-20 mins)
our classic pedicure | trim, shape, cuticle maintenance, buff & cuticle oil application, pumice exfoliation and finishes with a light lower leg and foot massage
gent's pedicure  $33  (25-30 mins)
our classic pedicure| includes lemongrass aromatic soak, lavender or citrus mineral salt exfoliation on lower leg and foot, warm towel wrap and finishes with our refreshing massage cream
sports pedicure  $40  (30-35 mins)
ideal for those with dry heels | warm lemongrass essential soak, callus eliminator application, lavender or citrus mineral salt exfoliation, massage, warm towel wrap, cucumber melon heel massage cream and finishes with our rejuvenating oil application
spa pedicure  $55  (40-50 mins)
luxurious pedicure leaving you feeling serene | includes an essential lemongrass soak, callus eliminator application, lower leg & foot exfoliation, mineral salt glow and lavender mineral salt exfoliation, minty lower leg and foot mask, warm towel wrap, cucumber melon heel foot massage and finishes with our rejuvenating oil application
---
additional services
gel add on signature service  (hands)  $17  (toes)  $20  (15-25 mins)
add gel polish to any of our signature manicures/pedicures and finish with our no dry time, glossy gel polish
gel add on  (hands)  $20  (toes)  $23  (15-25 mins)
trim, file, buff and finishes with our no dry time, glossy gel polish | does not include gel removal, full manicure or pedicure
gel off & on (hands)  $25  (toes)  $28  (20-30 mins)
gel removal, trim, file, buff and finishes with our no dry time, glossy gel polish | does not include full manicure or pedicure
gel soak off  $5  (10-15 mins)
gel nail fix  $4
dip gel polish soak off  $15  (12-18 mins)
acrylic soak off  $20  (30-40 mins)
extra gel application | base or top coat $3
10 minute leg massage $15  (10 mins)
nail art   $ price upon request
more elaborate design prices will vary, depending on timing and difficulty level. 
french finish  (reg) $6   (gel) $8  (additional 5-10 mins)
additional charge for change of color during gel manicure  $5+  | if you change your mind on a color during your gel application, there will be an additional inconvenience fee for gel removal and reapplication 
---
waxing
 prices may vary depending on the timing and difficulty of hair removal
eyebrows    $12
cheeks    $12+
upper lip     $8
chin     $11+
sideburns     $15+
neck     $15+
underarms     $22
arms (half)     $24+
arms (full)     $35+
fingers     $10
back     $45+
legs (half)     $28+
legs  (full)     $55+
toes     $12
» prices are subject to change
---
We offer "Same Day Call-Ahead" for groups of 4 or larger.  Please email us at least two weeks in advance, with a list of each guest's full name (first and last name required) with exact services.  We kindly ask that you provide a specific list of services, because upgrading or adding a service may not be available when you arrive.  A confirmation call is required to confirm your party's arrival.  You will receive full details on how to confirm your event in your email.  Please consider that we reserve this time according to the list you provide, cancelling or adjusting a service when you arrive affects the timing of our call-ahead list for other clients.  A deposit is required to hold your party's time slot.  
Email Party Information | Newtown Square
Due to our current pandemic, children 6 years and under will not be permitted in our salon at this time, for their safety. We are temporarily prohibiting outside food and beverages.  We truly appreciate your patience during this time as we try our best to accommodate everyone.  Our main focus is to keep you and our team healthy and safe by taking every precaution necessary.  We have held many intimate and fun gatherings at The Nail Bar and we look forward to doing the same for you.